Users who benefit from lending books service, sources available to borrow, time limits in borrowing and maximum number of publications to keep as borrowed in Istinye University Library are indicated below.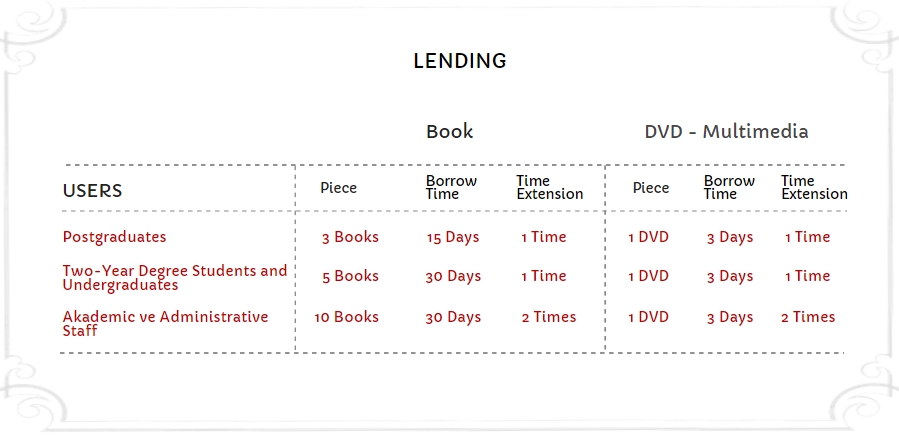 1- All members of institution (including academic and administrative staff, two-year degree students, graduates and postgraduates) are permitted to benefit from Istinye University Library.
2- Users who want to benefit from library knowledge sources can follow borrowing, returning and extension procedures by themselves only and on condition that presenting their ID cards. 
3- A reserved source can not be hold more than 3 days. The source that is still not received in 3 days either can be borrowed by another user or it is shelved. 
4- One can benefit from reference sources and magazines in the library only.
5- DVDs are lent singly and for 3 days each only.
6- Any other source may not be lent to user who still didn't return a borrowed source that is overdue. 
7- In case a user loses a source borrowed s/he must buy a new one of that for the library. 
Üyelerimiz ödünç aldığı her kitap için 1 kez uzatma hakkına sahiptir. Uzatma işlemi iade tarihine 3 gün kala Cep Kütüphanem uygulamasından veya Kütüphane Hesabım sayfasındaki "Üzerimdekiler" sekmesinden yapılmaktadır.
Detaylı bilgi için topkapikutuphane@istinye.edu.tr adresine mail atınız.