WHAT IS SUSTAINABILITY?
Sustainability represents a societal goal regarding the ability of humans to coexist safely on Earth for long periods of time. Sustainability; defined in three contexts: environmental, economic and social. Today, sustainability is on our agenda more than ever before. People try to act more carefully by calculating how the planet we live in will be affected as a result of each step they take.
Countries and institutions do not remain indifferent to this issue and try to find solutions to problems with various action plans. The most important of these is the 2030 Agenda for Sustainable Development, which was adopted by the United Nations Member States in 2015. The agenda identifies 17 Sustainable Development Goals, including eradicating poverty and hunger, improving education, protecting natural resources such as water quality, oceans and forests.
Libraries play a strong role in achieving these 17 goals. According to the International Federation of Library Associations and Institutions (IFLA), libraries have both a global reach and an innate understanding of local priorities.
AREAS THAT LIBRARY CONTRIBUTES
Librarians have a strong position in their society as a repository of knowledge and experience. By promoting sustainable practices and concepts, libraries can inspire others to adopt new behaviors.
IFLA's Environment, Sustainability and Libraries Section rewards libraries for their sustainability efforts with the IFLA Green Library Award.
Our posters, which we prepared in Turkish and English with the aim of contributing to the studies on sustainability under IFLA, were accepted and published on the "Environment, Sustainability and Libraries - Green Library Poster" page of IFLA. We were the first library from Turkey to participate in this study. You can review our poster work and the relevant web page via the links below.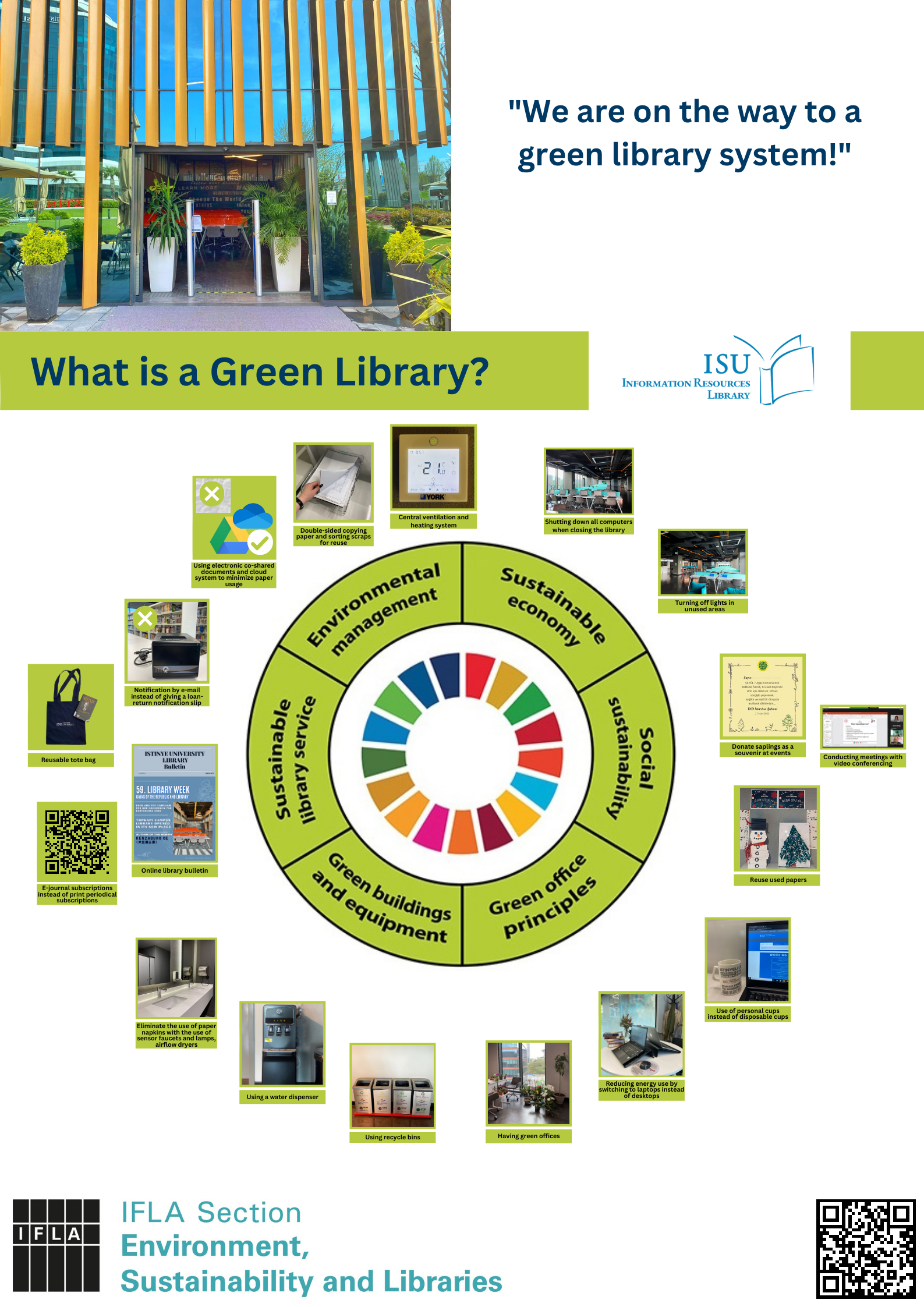 The Green Library Poster - IFLA
Istinye University Library Green Library Poster - TR
Today, libraries have started to act environmentally friendly in their design, construction and renovation processes. While replacing old library buildings with a new, energy-efficient one, libraries take sustainable measures such as motion detector LED lights, wall and ceiling insulation, energy-efficient windows and solar panels, thereby reducing their carbon footprint and reducing utility bills such as electricity.
Libraries also have the opportunity to evaluate and modify their programs to reflect progress towards sustainability. Notable efforts currently underway include libraries expanding the material their users can borrow. For example, in some library systems, users can borrow toys, seeds, musical instruments and even new technologies.
ACADEMIC LIBRARIES and SUSTAINABILITY
ACADEMIC LIBRARIES
Libraries play an important and unique role in raising awareness of climate change resilience and a sustainable future, providing the latest resources for researchers on these topics, supporting further academic research and accelerating progress towards solutions to problems.
While academic libraries are involved in reducing the carbon footprint of the library, they also have an impact on sustainability by working in partnership with different institutions and services that support access to research related to the Sustainable Development Goals (SDGs).
SUPPORTING SUSTAINABILITY RESEARCHES
Libraries play an important role in developing solutions to global problems such as climate change, energy resources, and economic equality. Libraries provide the necessary printed and electronic resources for scientists, enabling research to be carried out and solutions to be found.
The increase in open access publications on issues such as climate change, equality, peace and justice and the announcement of these publications to their stakeholders through the library will facilitate the work of scientists doing research on these issues, and the data they access free of charge will have a high impact on their research output.
At this stage, Librarians should closely follow the resources in the literature on issues such as climate change, environment and economy in order to support the studies of their users and take the necessary initiatives to add these resources to the collection. It should also make plans for the effective use of the enriched collection. Trainings should be organized to announce the resources and to use these resources.
Thanks to the resources it has, the library can act as a guide for its researchers about which studies are carried out in which field and with whom they can cooperate for these studies from different sectors. For this, it can prepare and announce its works such as effective publications list, popular research topics list, interdisciplinary collaborations sample lists, and organize trainings.
Laptop use: Laptops use less electricity than desktop versions. Desktop computers have been replaced with laptop computers in the İstinye University Library. Thus, an attempt was made to influence the carbon footprint reduction work.
GREEN COLLECTION
You can access the printed materials in the ISU Library collection on sustainability from here.
Depending on your research needs, you can access ISU Library databases and e-book collections from here.
For books, articles, book chapters and theses that are not in the ISU Library collection, the Interlibrary Loan and Document Supply Service (ILL) provides borrowing service from the libraries we have contracted with. For your book, article, book chapter and thesis requests, you can fill in the "ILL Request Form" on the Library website and send them to us.
Click here to access the top 40 highly cited sustainability journals in the Web of Science (WoS).
Click for more information about the United Nations Sustainable Development Goals.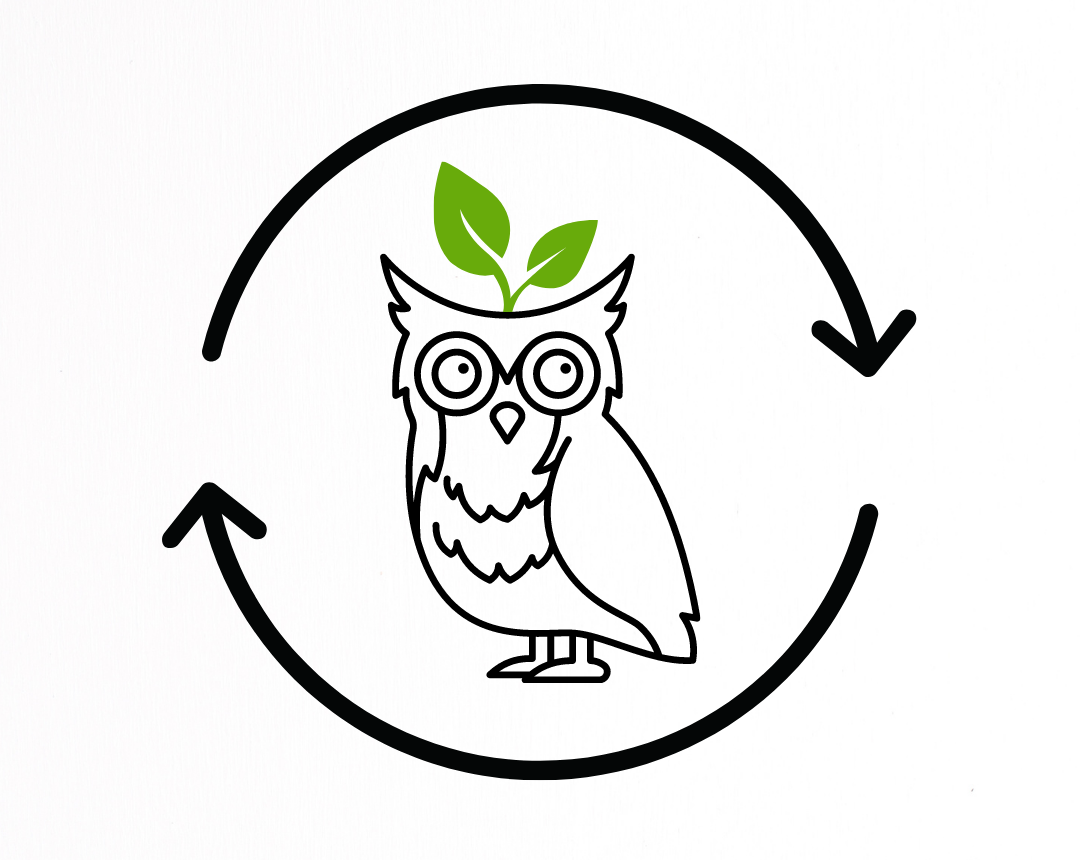 Sustainable structures (buildings), equipment and management click here to access the checklist.
You can find the latest publication of Sustainable Development Solutions Network on how university campuses can be greened here.
Top  Action Tips for Academic Librarians
Click here to access the list of Best Action Tips for Academic Librarians, created by the SDG Publishers Compact Fellows, which united to make Sustainability and Sustainable Development Goals the center of science and learning.
ISTINYE UNIVERSITY LIBRARY and SUSTAINABILITY
As Istinye University Library, we are working to carry out activities that support the sustainability movement in order to raise awareness in the communities we are in contact with (within the university, NGOs, the district and city we are in, etc.) with the goal of leaving a smaller carbon footprint. While the connections we have established enable us to reach more people and institutions, we have opportunities to set an example and pioneer the society in this regard.